Whataburger Breakfast Hours, Menu, & Prices
Whataburger Breakfast Hours & Menu: Breakfast is crucial for a person to start the day and function effectively. Do you want to take a morning bite from Whataburger? And, you are wondering what time Whataburger begins and ends selling Breakfast?
Do you have a burger longing? The Whataburger restaurant franchise might be a good option in such a case. For their burgers and other foods, they are incredibly well-liked. This article contains all the information you need to know about the Whataburger breakfast menu, hours, and best dishes.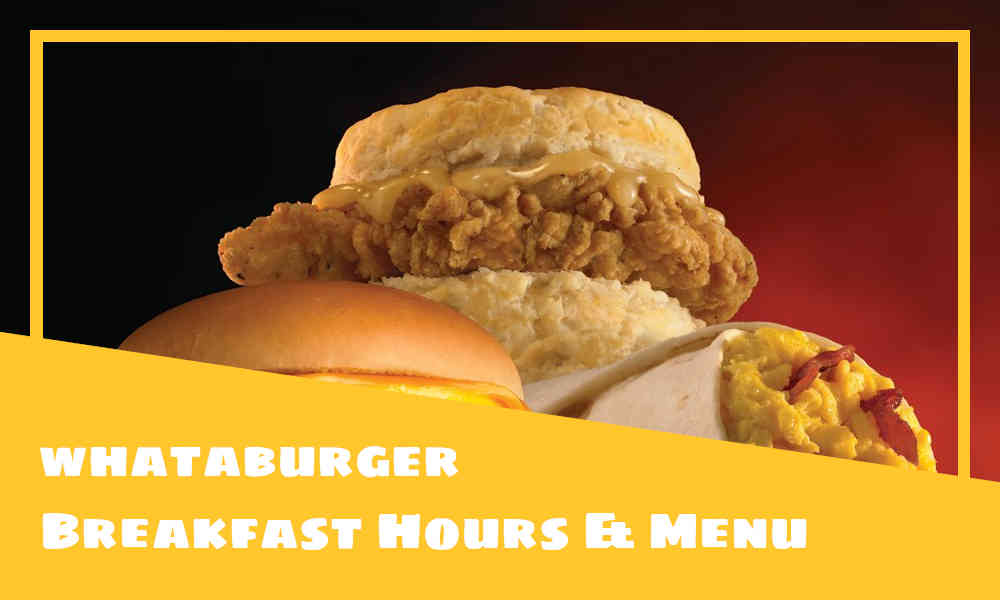 Whataburger Breakfast Hours
Every day between 11:00 pm and 11:00 am, Whataburger serves Breakfast, attracting both the late-night crowd and those seeking to start their day. Whataburger is also an excellent place for travelers who actually stay up late at night; it sounds fantastic. Regarding Whataburger breakfast hours, this specific fast food restaurant distinguishes itself from the competition since they last for a more extended time, up to 12 hours.
The scheduling for the Whataburger Breakfast is listed below.
| | | |
| --- | --- | --- |
| Day | Breakfast Opening Hours | Breakfast Closing Hours |
| Monday | 11.00 pm | 11:00 am |
| Tuesday | 11.00 pm | 11:00 am |
| Wednesday | 11.00 pm | 11:00 am |
| Thursday | 11.00 pm | 11:00 am |
| Friday | 11.00 pm | 11:00 am |
| Saturday | 11.00 pm | 11:00 am |
| Sunday | 11.00 pm | 11:00 am |
Whataburger Breakfast Menu & Price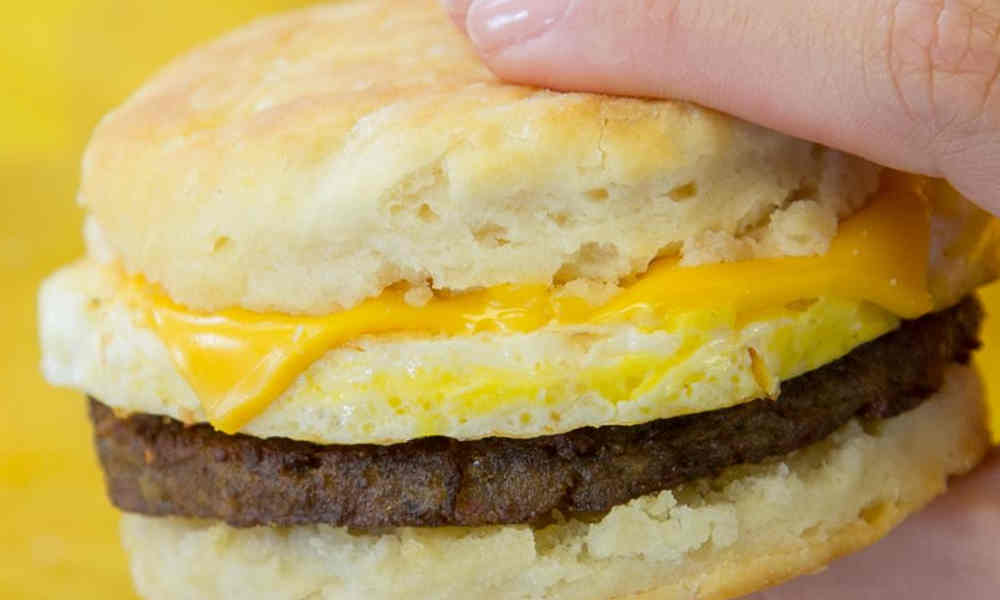 Whataburger restaurants are primarily recognized for their variety of breakfast options. Remember that limited-time breakfast items may vary depending on the day that you visit the restaurant. Price can vary slightly with location, so it is always better to contact the restaurant directly for the most recent pricing and menu details.
Everything currently offered for Breakfast is shown on the menu below.
Breakfast Menu
Items
Price
Spicy Honey Butter Chicken Biscuit (limited time)
$5.19
Cinnamon Roll
$2.49
Biscuit Sandwich
$5.59
Biscuit with Sausage
$2.19
Honey Butter Chicken Biscuit*
$5.19
Egg Sandwich
$2.29
Biscuit and Gravy
$4.19
Breakfast Platter
$6.19
Biscuit
$1.39
Breakfast On A Bun
$5.39
breakfast burger (limited time)*
$4.49
Hash Brown Sticks
$1.89
Pancakes
$2.89
Taquito with Cheese
$5.59
Biscuit with Bacon
$2.19
Pancake Platter
$5.89
Egg and Cheese Biscuit
$2.59
* Spicy Honey Butter Chicken Biscuit and breakfast burger is a limited-time offer.
Drinks & Shakes
Drinks & Shakes
Items
Price
Dr Pepper® Shake*
$3.49
Simply Orange® Juice
$2.29
Shakes
$2.99
Tea
$1.99
Soft Drink
$1.99
Honest Apple Juice
$1.49
Coffee
$1.59
Milk
$1.49
Malts
$3.49
Small Dr Pepper® Shake *( limited time)
$2.99
* Small Dr. Pepper® Shake is a limited-time offer.
Best Whataburger Breakfast Dishes
The Whataburger Breakfast menu is an excellent option if you don't have time to sit down for a full meal. The company's breakfast burgers are huge and delicious, with many layers, but it is a limited-time dish. And while you're at it, why not try some other fast-food items?
Other best breakfast items include biscuit sandwiches, honey butter chicken biscuits, and hash brown sticks. And don't forget the classic breakfast platter. It's a sizable assortment of food that seems to provide ample satiation. It includes one buttermilk biscuit, scrambled eggs, and your choice of bacon or hash browns. The hash browns are too mushy in the middle and overly crunchy on the outside, while the scrambled eggs are greasy and flavorful to a meager degree. With its extensive breakfast options, it's easy to see why Whataburger has become a favorite among so many customers.
Value for Money
Whataburger provides enticing, nutritious food that is low in fat and sodium and high in vitamins and minerals. It offers a variety of breakfast selections. Pancakes, breakfast burritos, sandwiches, and breakfast platters are all options. Whataburger's costs are comparable to those of other well-known burger restaurant franchises.
If you check the breakfast menu table, you can simply understand how cheap Whataburger breakfast Items are; biscuit costs as little as $1.39, and for $5.19, you will get the Honey Butter Chicken Biscuit. More than half of the breakfast items fall under $3, so you can find the best item for you without any worrying.
Whataburger also offers a variety of drinks, such as shakes, tea, soft drinks, juice, coffee, milk, and malts. Milkshakes come in a variety of flavors, and their price range starts at $2.99. Additionally, Tea and Coffee costs $1.99 and $1.59, respectively.
Whataburger Main Menu
Fast food restaurant Whataburger is well known for its delectable burgers and sandwiches. They also serve delicious breakfast items that everyone adores. However, not everyone is aware that what other menu is present in Whataburger.
Burgers, chicken sandwiches, kids items, salads, Desserts & Snacks are on the main menu. At Whataburger, every item is still made to order with only the purest, freshest ingredients. Never did they use frozen food.
About Whataburger
One of the most well-known fast-food restaurants in the world, Whataburger is famed for its delectable burgers. It offers a distinctive selection of burgers to suit different tastes and preferences. The restaurant was established in 1950 in Corpus Christi, Texas, by Harmon Dobson and Paul Burton. Whataburger has since grown to more than 800 outlets across ten states.
Whataburger Contact Info
Mail Address:
PO Box 791990,
San Antonio, TX 78279,
Contact Number: 1-800-6burger or (210) 476-6000
Conclusion
Whataburger is the place to go if you're looking for an affordable, tasty breakfast. While its famous burgers are the star of its business, the company also makes an effort to serve Breakfast in the middle of the night or early in the morning. Before rushing out to school or work, stop by this location for a filling and healthful Breakfast.
Whataburger features a wide selection of mouthwatering cuisine offerings. There is a petition to extend Whataburger breakfast hours and make the meals available around the clock because they are so well-liked and favored by customers.
Chick fil A Breakfast Hours, Menu, & Prices
Dairy Queen Breakfast Hours, Menu, Prices, & Best Dishes
Whataburger Breakfast FAQ
Does Whataburger serve Breakfast all day?
No, Whataburger does not offer a breakfast menu all day, but it does offer a breakfast menu beginning at 11:00 pm. However, the best part is Breakfast is available 12 hrs. a day. Typically, Whataburger locations are open twenty-four hours a day.
What time does Whataburger stop serving Breakfast?
Whataburger is actually open continuously every day of the week. But Whataburger locations stop serving Breakfast at 11:00 am in the morning.
Whataburger offers a delicious breakfast. You can order from a wide variety of breakfast items. The Whataburger morning menu also features burgers (limited), And don't worry if you're not a huge fan of burgers. You can try a Whataburger breakfast Hash Brown Sticks, Cinnamon Rolls, Pancakes, Platter, or Biscuits. Along with a drinks menu to kickstart your day.
Is Whataburger going to bring back the Breakfast Burger?
The Whataburger Breakfast Burger is a limited-time menu in Whataburger. This means it is only available on some days. Since they introduced the breakfast burger in 2019, it has been a famous dish among customers. Due to the popularity of breakfast burgers, they bring burgers frequently throughout the year.
The breakfast burger at Whataburger comes with 100% beef patties, Creamy Pepper Sauce, one egg, two smoky bacon pieces, three crunchy hash browns, and American cheese. They are all included in the Whataburger Breakfast Burger, which is served in a 4″ bun. Additionally, the Creamy Pepper Sauce is offered as a dipping sauce.
What kind of cheese does Whataburger use on taquitos?
This is one of the common doubts many people ask; Whataburger uses standard American cheese on Taquitos, which makes Taquitos more special and taster.
How much is a honey butter chicken biscuit from Whataburger?
The Whataburger Honey Butter Chicken Biscuit is a biscuit with a chicken strip in the middle that has been covered in honey butter. There are two types: spicy honey and honey butter. And cost $5.19.
Whataburger Breakfast Items' calories change with what you order. The highest amount of calories is in Biscuit Sandwich with Sausage, Egg & Cheese (690 calories), Honey Butter Chicken Biscuit (560 calories), and Breakfast on a Bun with Sausage (550 calories). To check more detailed nutrition info, visit their official website.
What sauce is on the Whataburger Breakfast Burger?
The burger comprises 100% beef patties, Whataburger's unique Creamy Pepper Sauce, two flavorful bacon slices, an egg, three crispy hash browns, and American cheese, all of which are conveniently packed in a 4″ bread. As a dipping sauce, the Creamy Pepper Sauce is also offered.
Reference