Spangles Breakfast Hours, Menu, Prices, & Best Dishes
Spangles Breakfast Hours & Menu: For those who enjoy a good breakfast, Spangles is one of the best places to go. They serve breakfast all day, and their menu includes many options. If you've ever wondered how good Spangles Breakfast is, this article is for you. We will discuss the Spangles Breakfast menu, as well as which dishes are the best.
We'll also discuss the Spangles breakfast hours and how much you should expect to pay for each dish so that you can make the most informed decision possible.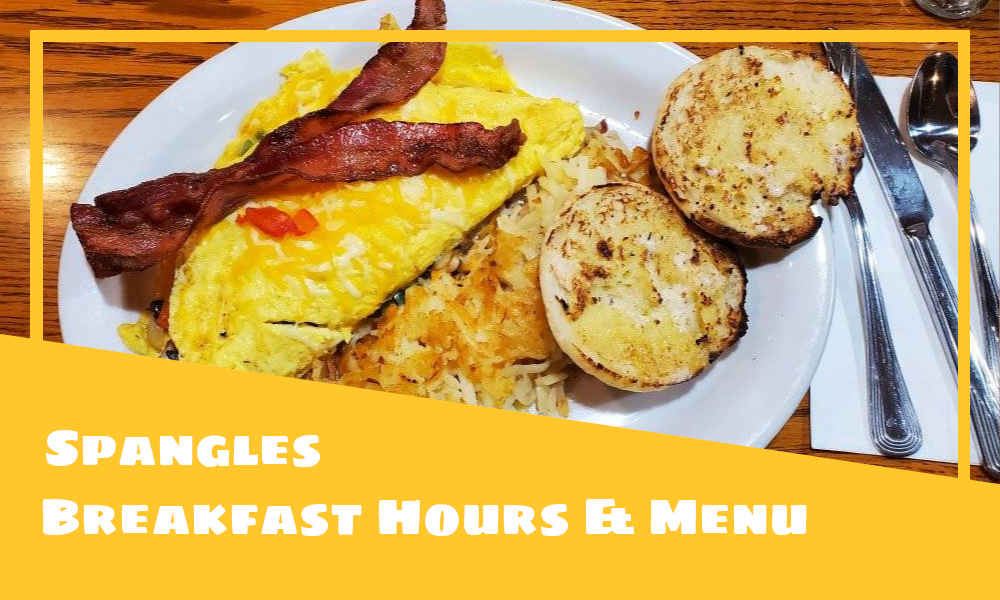 Spangles Breakfast Hours
During morning hours, Spangles is usually very busy. However, you're likely to have a less crowded experience during the late afternoon and evening hours. Because they serve all day, you can come back anytime for the breakfast menu. Spangles breakfast is served until 10:00 pm every day.
On Monday to Saturday, Spangles is open from 6.30 am, but on Sundays, they start serving at 7.00 am. Please note that Spangles breakfast times vary by location.
Using the chart below, you can find the Spangles Breakfast hours.
| | | |
| --- | --- | --- |
| Day | Breakfast Opening Hours | Breakfast Closing Hours |
| Monday | 6:30 am | 10.00 pm |
| Tuesday | 6:30 am | 10.00 pm |
| Wednesday | 6:30 am | 10.00 pm |
| Thursday | 6:30 am | 10.00 pm |
| Friday | 6:30 am | 10.00 pm |
| Saturday | 6:30 am | 10.00 pm |
| Sunday | 7:00 am | 10.00 pm |
Spangles Breakfast Menu & Prices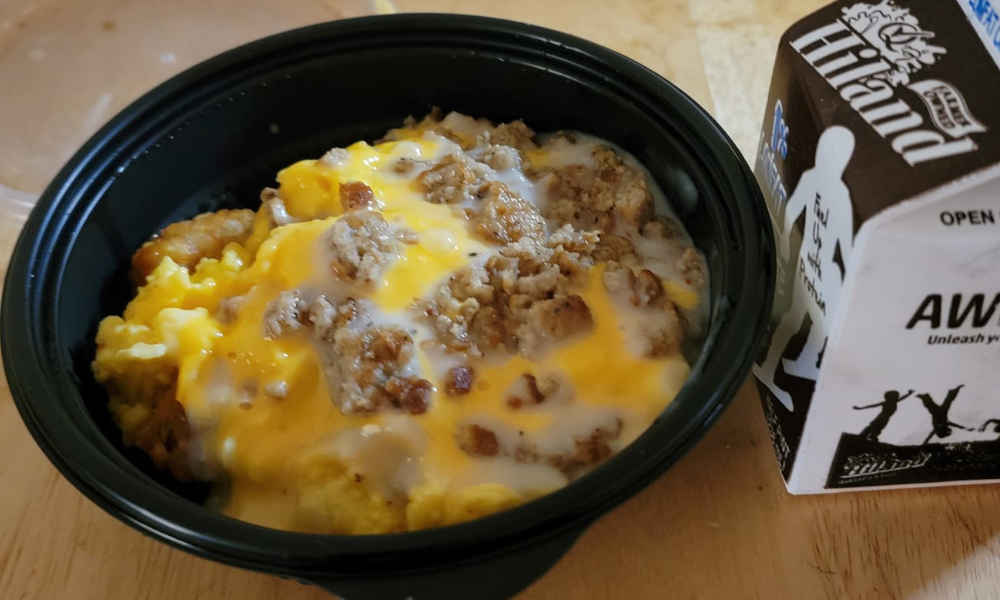 Spangles have become a favorite restaurant for those who enjoy a delicious breakfast. The breakfast menu at Spangles is focused on serving the needs of diners who want a quick, casual breakfast. Menu options include pancakes, omelets, burgers, a variety of breakfast bowls, etc. Kids menu and Beverages are also available during the day. With this breakfast menu, you will get enough sources of all the vitamins and minerals for your daily needs.
Here are some specifics on the Spangles Breakfast Menu and prices:
*Value Packs include 14oz Premium Roast Coffee or 12oz Orange Juice Slush and a side of Hashbrown Nuggets. Prices may vary.
Spangles Breakfast Items
Item
Price
Value Packs
Breakfast Platter
$3.99
–
Cinnamon & Sugar Mini Donuts
$2.69
–
Breakfast Club On Pita
$3.49
$5.59
Sausage Breakfast Bowl
$3.99
–
Bacon Breakfast Bowl
$3.99
–
Fiesta Breakfast Bowl
$3.99
–
Bagel, Egg & Cheese With Sausage Or Bacon
$3.09
$5.29
Bagel & Cheese, Egg
$2.29
$4.59
Ultimate Bagel
$3.69
$5.79
Sourdough Ham & Cheese Omelet
$2.99
$4.99
French Toast Sticks
$3.69
–
Sourdough Bacon, Egg & Cheese
$2.99
$4.99
Ooey Gooey Cinnamon Pancakes
$3.99
–
Pancakes
$3.49
Sourdough Sausage, Egg & Cheese
$2.99
$4.99
Sausage, Egg & Cheese On Pita
$3.49
$5.79
Sourdough Steak & Egg
$3.79
$5.99
Breakfast Burger
$5.49
$7.89
Hashbrown Nuggets
Small- $1.79
Medium- $2.09
Large- $2.69
–
Pancake Breakfast Bowl
$3.99
–
Spangles Kids Breakfast Menu
| | | |
| --- | --- | --- |
| Item | Price | Value Packs |
| Hamburger Or Grilled Cheese | – | $3.99 |
| Chicken Strips | $3.29 | $4.99 |
Beverages
Item
Price
100% Pure Orange Juice Slush
Small: $1.79
Medium: $2.19
Large: $2.99
Fountain Drinks
32 Oz: $2.19
20 Oz: $1.79
44 Oz: $2.99
Coffee (Premium Roast)
Large: $1.79
Small: $1.49
Iced Coffee
Small:$2.19
Medium:$3.19
Large: $4.19
Bottled Water
$1.79
Milk
$1.49
Bag Of Ice
$1.89
Best Spangles Breakfast Dishes
Spangles is famous for its breakfast menu, which offers a variety of options, such as pancakes, waffles, biscuits, Breakfast Platters, and egg sandwiches.
Breakfast bowls are one of the best things you can get at Spangles. There are many varieties; their popular ones are bacon and Fiesta. If you plan to eat breakfast bowls, you can grab any one of these. Breakfast Platter is another popular item that includes hash browns, eggs & bacon or butter-toasted bagel, and sausage.
In the same way, you can enjoy Breakfast burgers, French Toast Sticks, Ultimate bagels, and so much more. A large selection of breakfast favorites is available at Spangles; you can choose anything according to your preference.
Value for Money
The Spangles restaurant is the spot to go if you're searching for a delectable breakfast in your area at prices that are generally reasonable. The restaurant serves tasty, affordable food. Every dish is cooked using a lot healthier and more nutrient-dense pack for the body. The price of the Spangles breakfast menu is comparable to that of other restaurants. They are serving the meal with affection and affordability.
Analyzing the morning menu in detail will reveal how reasonably priced Spangles are. You'll find something that you like that is within your budget. The Spangles restaurant's price for breakfast starts at $2.69, which is more affordable than any restaurant. They also have value packs for choosing the best items for a wonderful breakfast. With value packs, you can get several items at a very low cost. Value pack items start at $3.49 and can cost as much as $5.99. You can save extra if you prefer value pack items.
Spangles Full Menu
The menu at Spangles varies depending on the location. Most of the items are served all days. You can order buttermilk pancakes, Belgian waffles, and ham or sausage for your lunch. The full menu also offers many burger varieties you can pick any time from their menu list
You can bring your child to the Spangles restaurant at any time of the day. There is a special menu for kids. Hamburger Or Grilled Cheese and Chicken Strips are popular kids' items. For a more detailed menu, you can visit their official website.
About Spangles
Spangles is a family-owned fast-food chain with 27 locations in Kansas. It serves classic American fast food, plus beverages and desserts. The restaurant's atmosphere is fun and family-friendly. It also has a dedicated menu for kids.
Spangles Contact Info
Address:
Spangles Restaurants,
437 N. Hillside,
Wichita, KS 67214
Phone Number: 316-685-8817
Lizard Thicket Breakfast Hours, Menu, Prices, & Best Dishes
Residence Inn Breakfast Hours, Menu, & Best Dishes
Conclusion
Because of Spangles' extraordinarily accommodating hours, you can always find time to enjoy breakfast there. Before making plans for breakfast at Spangles, you should verify the restaurant's hours of operation from Monday through Sunday. A large selection of warm and cold dishes is available at the Spangles. For more information, call Spangles or go to their website.
Spangles Breakfast FAQ
What do Spangles have for breakfast?
Spangles serve breakfast all day. Bacon, ham, bagels, pancakes, omelets, burgers, a variety of breakfast bowls, and much more are available for their guests. For more details, check the above Spangles breakfast menu.
What is a Spangles value pack?
Value Packs come with a burger, small fries, and a 20-ounce beverage. Prices can change at any time. So, check the price before ordering.
Do Spangles offer breakfast burgers?
Yes! The amazing range of breakfast burgers that Spangles offers may fill you up and make your morning enjoyable.
Ikea Breakfast Hours, Menu, Price, & Best Dishes (US)
Iron Skillet Breakfast Hours, Menu, Prices, & Best Dishes
Reference